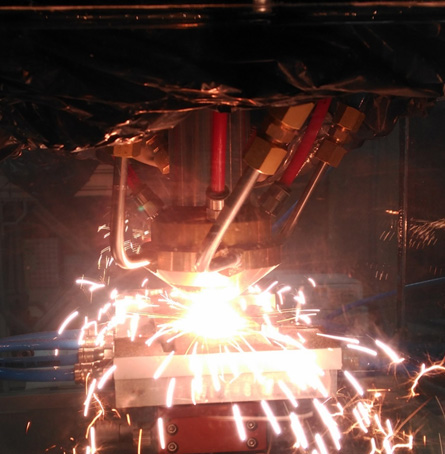 LaserON research group has applied for a patent for an advanced additive manufacturing or 3D printing system for dental implants that makes it possible to obtain materials of equal or higher quality than the current ones, in addition to improving the efficiency of the process. The technique has been developed over the last four years by our group and the company Corus Fegoba and constitutes the PhD Thesis of engineer Óscar Barro Guizán, who has developed his work between both entities.
"These collaborations allow us to unite the knowledge of the academia with the needs of companies, which do not always have the necessary capabilities to be able to take on projects like this one with a high research load. It has allowed me to get to know both worlds at the same time and I am delighted with the response and acceptance on both sides."
The LDED (Laser Directed Energy Deposition) technique developed by Óscar Barro uses a high-power laser to melt these metals at a very high temperature and obtain materials with similar or even superior properties, in the case of titanium, to those currently marketed.
Read the news at the Faro de Vigo.